What is RHEA?
The Reproductive Health Equity Act (HB22-1279) is a law that modernizes Colorado statute establishing reproductive rights as fundamental rights. It establishes that:
Every person has the right to choose or refuse contraception,
That every pregnant person has the right to give birth or to have an abortion,
And that personhood can't be established in state law.
What Now?
RHEA becoming law could not have come at a more pressing time. Until now, Coloradans have relied on the Constitutional protection of Roe and the federal courts, who are poised to overturn Roe this June with their ruling in Dobbs v. Jackson Women's Health Organization, a case challenging Mississippi's unconstitutional abortion ban.
Without RHEA, there would have been nothing explicitly protecting abortion access in Colorado law, and together we ensured that no matter the outcome of Roe, Coloradans' fundamental rights are protected.
And we know our work doesn't stop here. Protecting our right to abortion care is just one piece of our Reproductive Justice work. We're working towards a future where all Coloradans have access to the reproductive health care they need and deserve!
We are proud to have helped pass RHEA, the Reproductive Health Equity Act, alongside COBALT Advocates and joined community members at the Governor's Mansion as Gov. Jared Polis signs RHEA into law in April 2022. As a result of passing this crucial legislation, Colorado now joins 15 states and D.C. in enshrining the fundamental right to reproductive healthcare. This legislative win to enshrine abortion access in Colorado statue is making national headlines! CNN, The Colorado Sun and The Denver Post are few of the media outlets covering this historic law.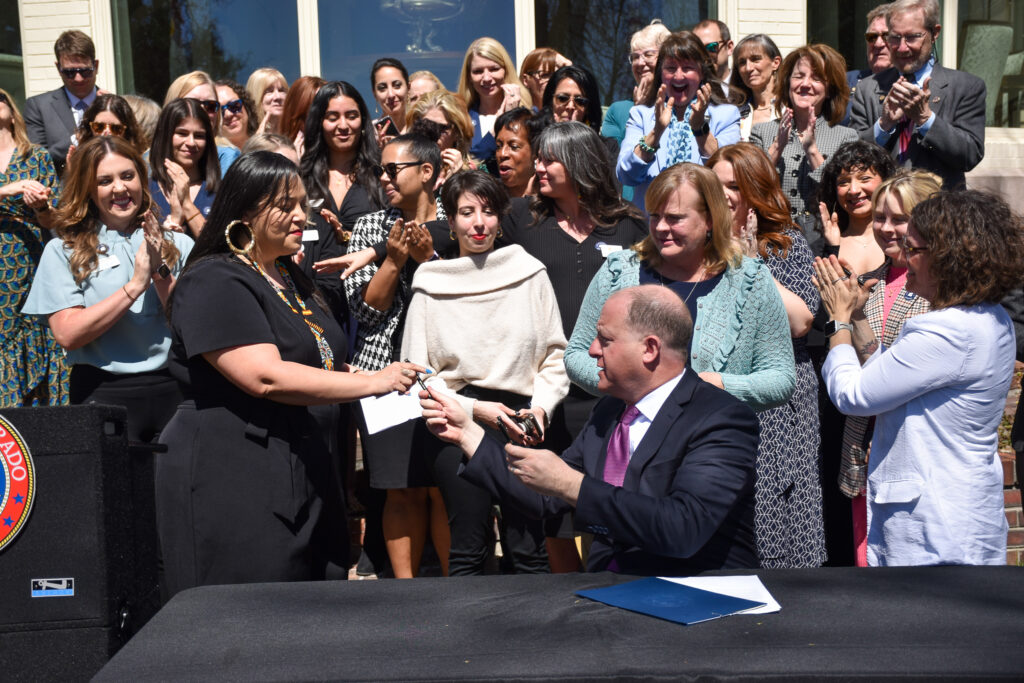 Gov. Jared Polis signs RHEA into Colorado Law.
And how can you be part of this new phase of COLOR? 
We cannot do this work without you and want to call you into this moment where we're ensuring the fundamental right to abortion access is not only protected but ensured for all Coloradans! While our bill, the Reproductive Health Equity Act (RHEA), is already law, this doesn't mean that the fight ends here. We know that as the decision over Dobbs and Roe looms over us in the coming months, your support is going to be more important than ever!